Submitting your project for sale
Back to SideProjectors Home

Before submitting your project, please make sure you read through our
Project Listing Guideline
. Please note that every project submitted is reviewed before being published.
Have something you want to sell? Awesome! Let's start by clicking on the
Submit a Project
button and selecting the
I would like to post a project for sale
option.
In the next popup screen (shown below) you can type in the homepage URL of your project and SideProjectors will try to automatically retrieve as much information as possible to populate the submission form which will appear next.
Also, SideProjectors can directly integrate with
ProductHunt
to retrieve your project and pre-fill the submission form. If you wish, you can skip this step, otherwise, this is a great way to fill out your project information without typing.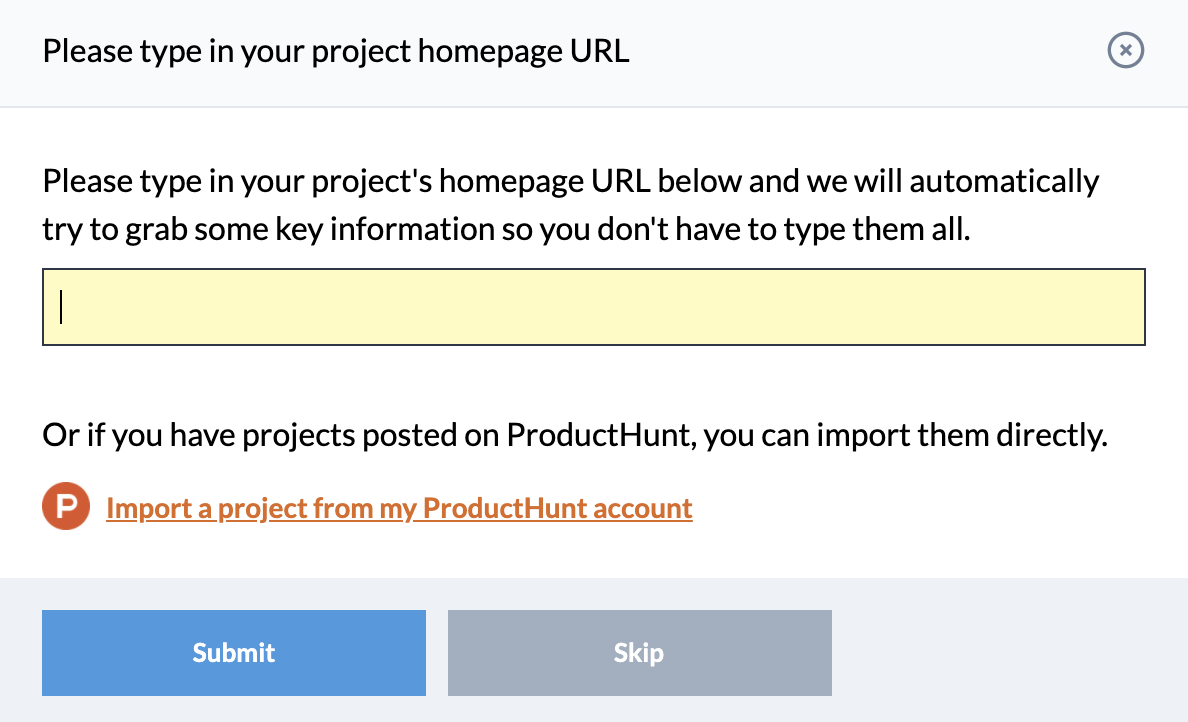 Project submission form
In the project submission form, we strongly recommend you to fill out all the information. This gives the potential buyers the sufficient understanding of what is being sold and prevents you from receiving emails with unnecessary questions.
Every project submitted on SideProjectors is reviewed and checked by our moderators before being published to our homepage. Your project is most likely to be approved quickly, if it contains sufficient information (provided that it meets the
project listing guideline
).
High quality listings are also frequently featured on our homepage, blog, newsletter, Twitter and Facebook page giving you more visibility, so it's worth investing that little extra time making sure that your submission has all the information.
Note that project submission form has an
Auto Saving
feature so you don't need to worry about losing what you typed. Un-published projects are saved as
Drafts
and you can always edit them later by clicking on
Submit a Project
and selecting
Finish draft projects in progress
.
What happens after submission?
Once you submit your project, our moderators will be notified and will review your project. The review process takes usually around 24 hours and once approved, you will be notified via email and should see your project on our homepage.
We also ask you to place a
For Sale
badge on your project's homepage and share the project via various social media sources to give your project as much exposure as possible. The number of views that your project receives is one of several factors considered towards the ranking on the homepage.

Got questions?
Get in touch with us